Smart Fingerprint lock Compact size to be carried anywhere you go.
Fingerprint Bluetooth padlock is suitable for both indoor and temporary outdoor use in gym, school, office, door, gate, fence, garage, warehouse, cabinet, shed, suitcase, handbag, luggage, bike, etc. 
High quality, 500kg bearing capacity.
IP65waterproof
360° fingerprint recognize,Fast unlock≤0.5s
Heavy P70,Suitable for large doors.
The fingerint padlock can be save 10 groups fingerprints stores. Your finger is your key!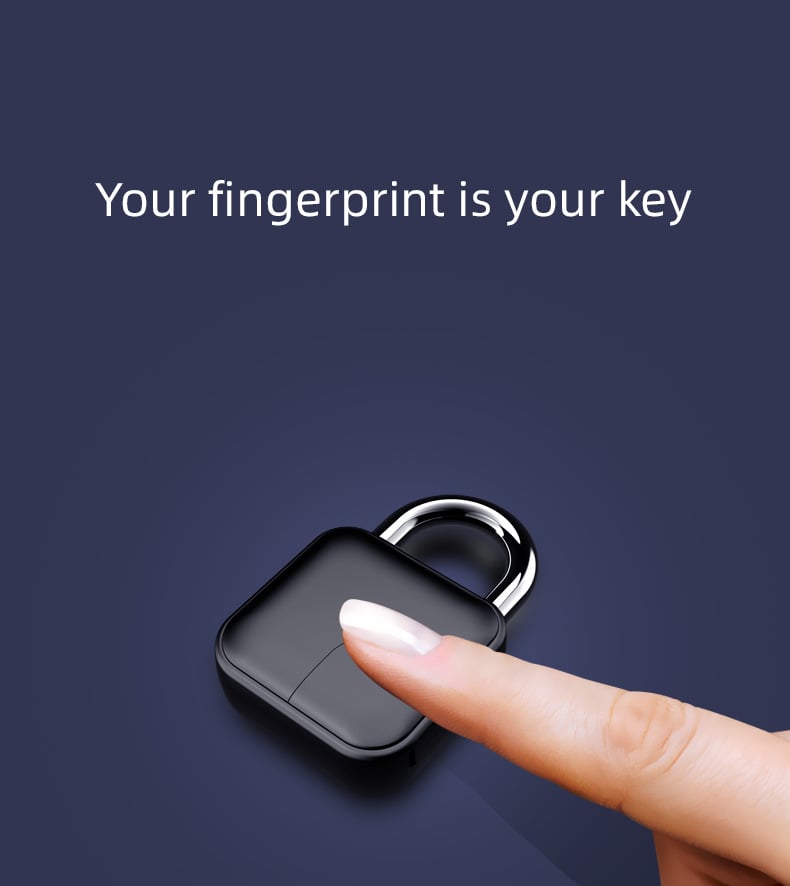 Sturdy Structure,Prevent illegally unlocking
Suitable for gate lock, doorlock,warehouses lock, gareges lock,cabinets lock, bicycles lock, bike lock, suitcase lock …
Specification (Black):
Bluetooth unlock app unlock
Fingerprint unlocking biometrics
Identification of red, green and blue three color lights
Lithium battery capacity: 300mAh
Storage capacity: 30 groups fingerprints
Working temperature: – 20 ℃ ~ + 70 ℃
Charging current: 5V / 200mA
Working voltage: 3.7V
Lock body material: ADC12 zinc alloy
Fingerprint setting short press to unlock, long press 5S to set
Fingerprint, long press 10s to delete fingerprint
1. Please charge the lock before use.
2. Please read the user manual before use.
3. When adding authorized users the app may ask for access to your contacts. This is not required for normal usage.
4. The lock has a weatherproof rating of IP65. It can be used outdoors but it is not recommended to submerge in water and extreme weather or temperature conditions may damage the battery.
5. If your lock has died or will not open you may need to use a power bank to charge the battery.
Customer Reviews: